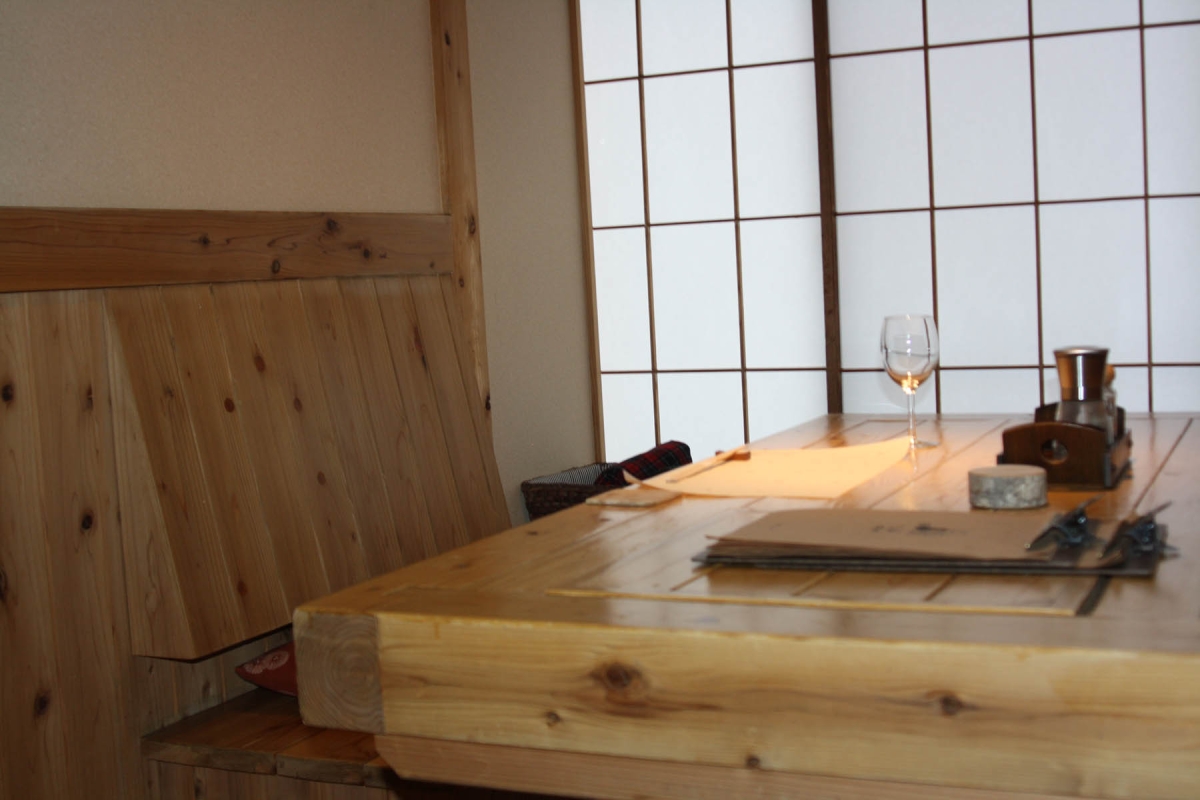 There are many different criteria to weigh when deciding among the various Japanese-style inns- known as ryokan – which you will find in scenic countryside areas. Often, these establishments have a deep connection to the local history or culture that a commercial chain hotel simply can't provide. Minakami ECOLODGE Syoubun combines both modern comfort and a window into how people in the area would traditionally live and eat with their emphasis on farm-fresh local cuisine.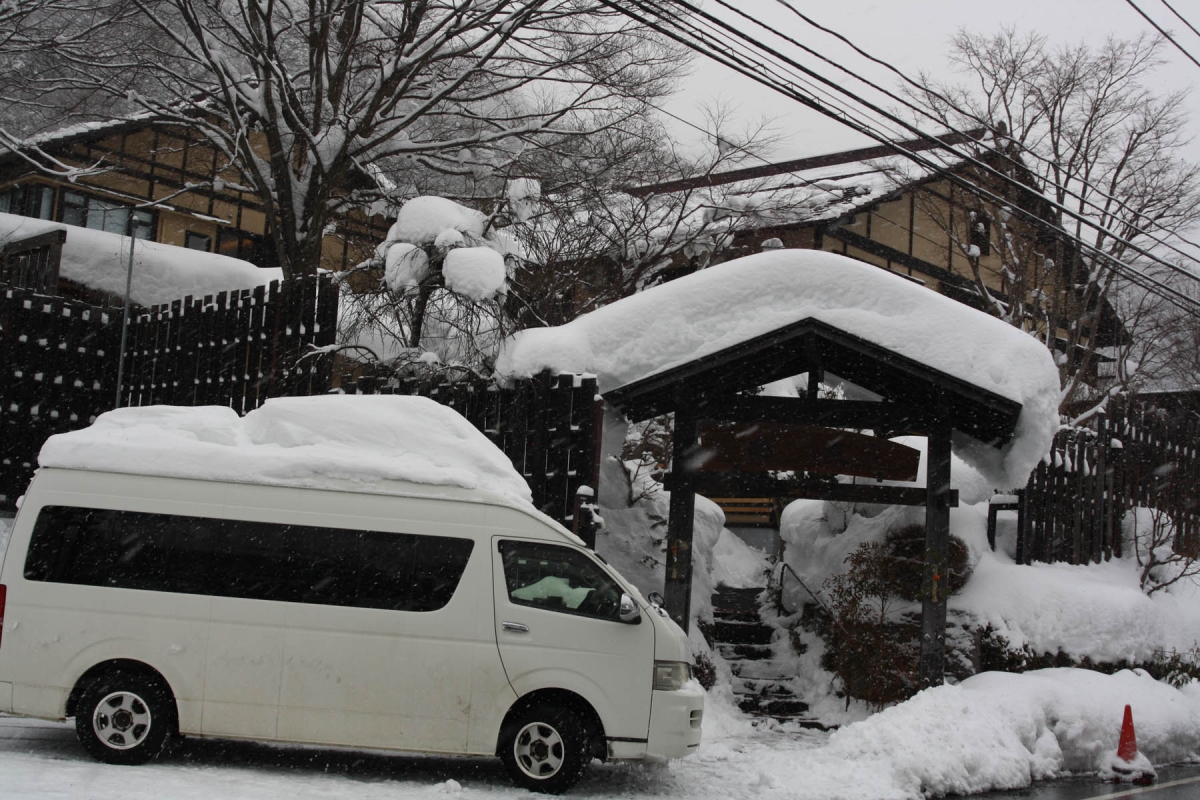 A modern minshuku in Yukiguni
Syoubun began in the 1970s as a minshuku, or a Japanese style bed and breakfast, by the grandfather of the current owner, who wanted to cook fresh, local cuisine for his guests. These regional flavors – ripe and delicious vegetables, river fish, and prized local rice, have now become the pillars upon which the modern Syoubun is built. We travelled there to sample the winter menu at this farm-to-table ECOLODGE.
Traditionally, Japanese inns would serve their cuisine in a number of courses, the order of which was important to the customer's enjoyment of the meal. Let's discuss each course at Syoubun to get a sense of what you may partake in while there. Keep in mind that the menu changes seasonally to ensure the freshest menu available. Syoubun works with approximately a dozen local producers, in addition to certain items that are harvested by the hotel staff themselves, in order to make what they call "Yamabito Ryouri," or mountain cuisine.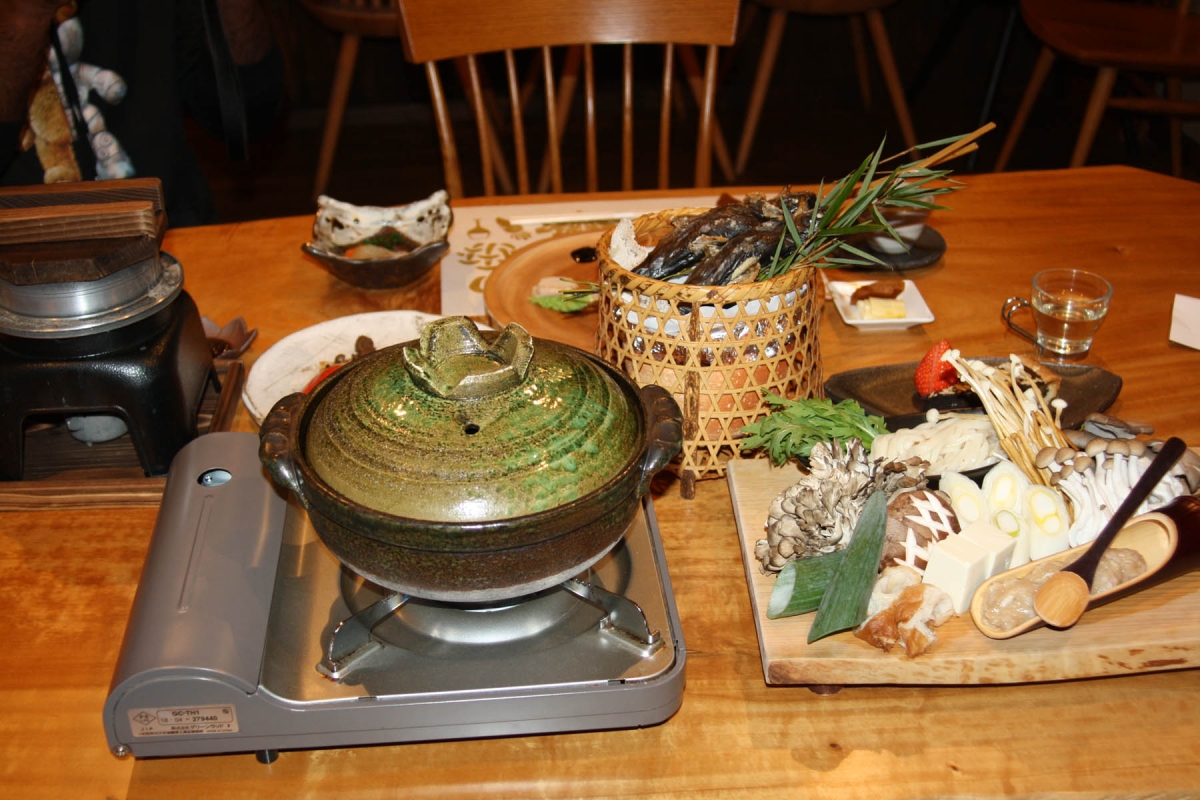 A full course meal fit for mountain folk
The first course is known as zensai, which is a Japanese take on appetizers. The theme for this meal was "mountains, rivers, and rice fields," and included a delectable sampling of chicken, fish, and an arrangement of fresh veggies with a choice of two homemade dipping sauces. The fish we were served is known as Ginhikari. It is generally only found around Gunma, and has a delicate taste similar to salmon.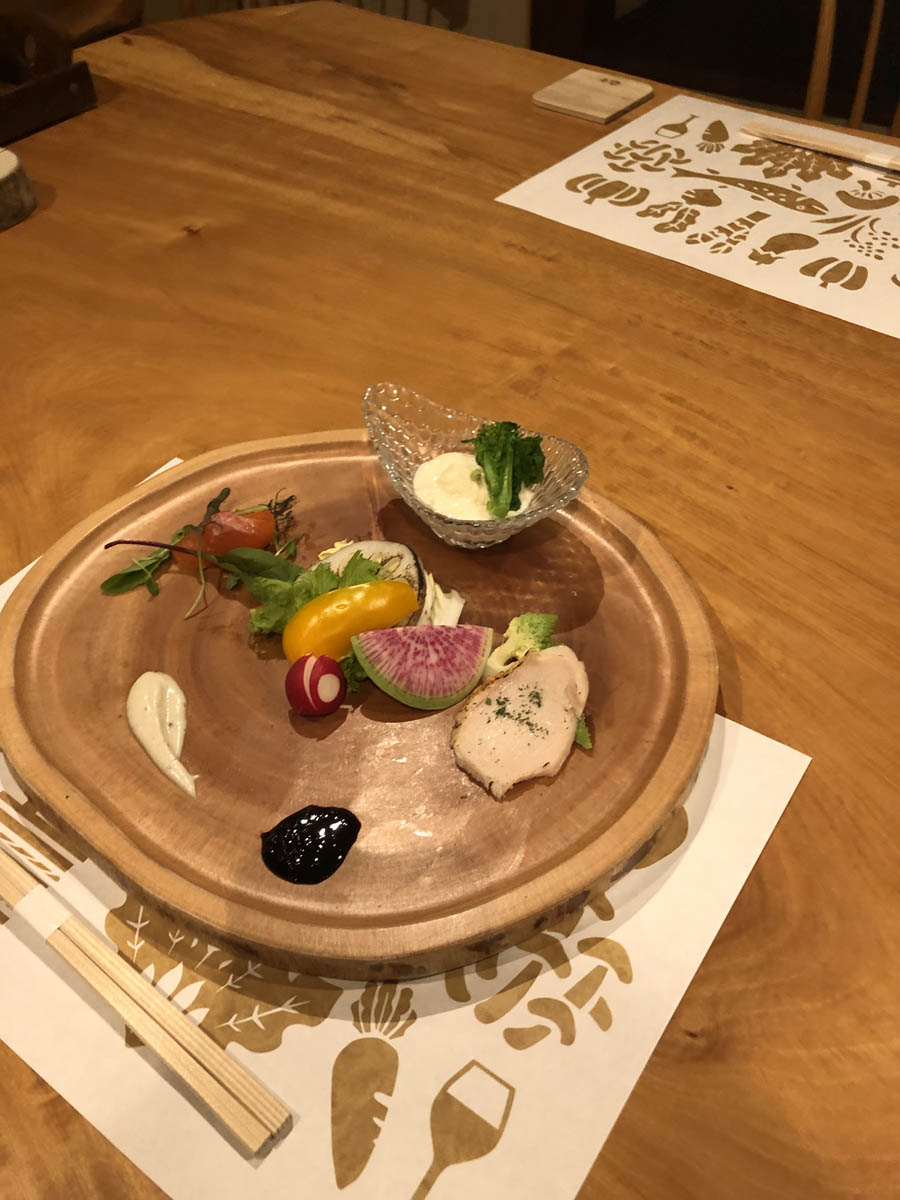 Next was the suimono, in this case a hearty, warm soup of burdock root and potatoes, which was perfect for a cold winter evening. The third course was a more substantial protein dish, yakimono, which at Syoubun is grilled ozeibuta, a locally produced pork in Minakami, which is prepared sous-vide, along with a fukimiso topping- made from Japanese butterbur, which is grown and picked by Syoubun staff, and served year-round.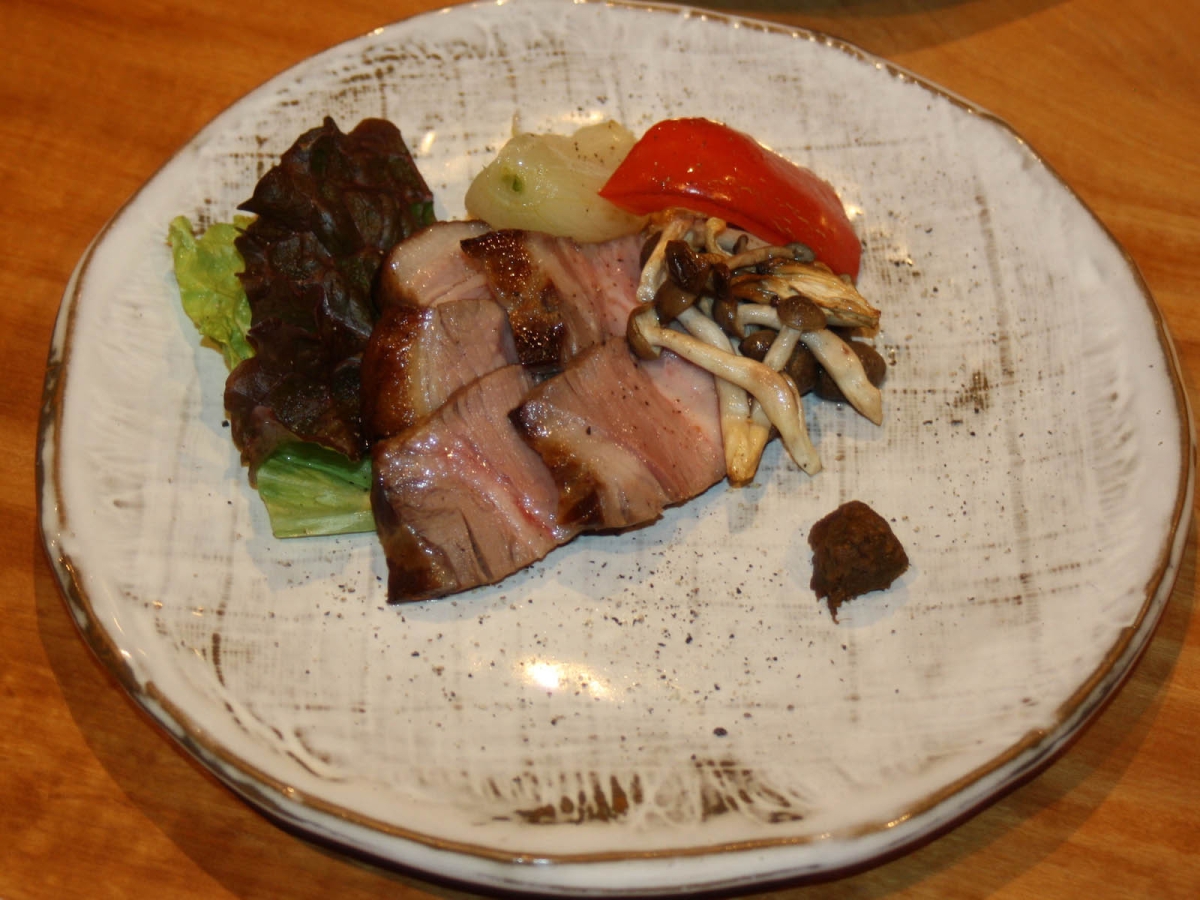 The fourth course is called nimono, which at Syoubun features boiled and stewed daikon radish with some mushroom and beef tendon. Though this is not a typical nimono, it reflects what was traditionally available for farmers to eat in Gunma's harsh winters. This was quite filling so far, but much more was on the way!
In the middle of the meal is Syoubun's winter specialty: a nabe stew made with fresh leeks, enormous and meaty local mushrooms, and a variety of mountain vegetables, known as sansai. During wintertime, sansai were traditionally prepared shiotzuke, or pickled in salt. Another Gunma tradition is a serving of freshly made udon noodles, which are served after the nabe in the leftover soup. "This method reflects how farmers would preserve food in salt to be used throughout the year, then cook it in a nabe pot to bring out umami flavors in the ingredients," says Mr. Naoki Abe, the current proprietor of Syoubun.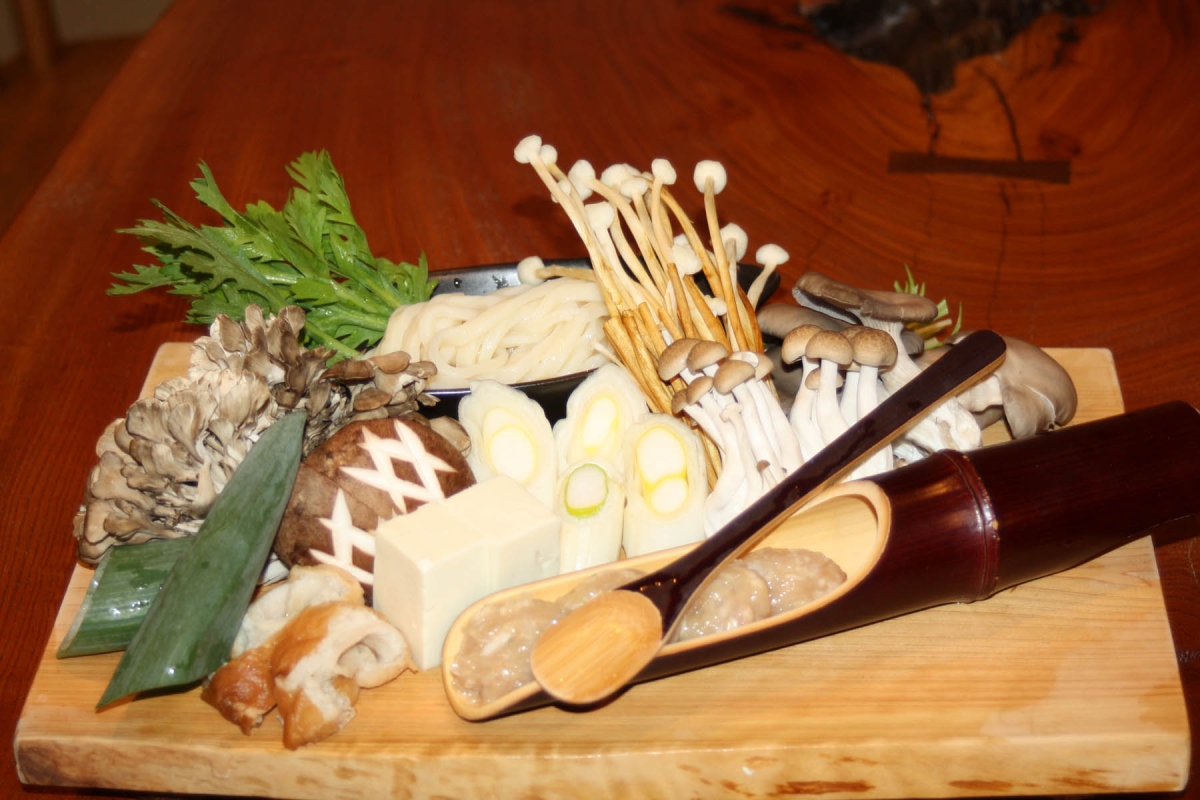 Speaking of tradition, it used to be common for Japanese families to serve yakizakana, or grilled whole fish. In the Snow Country region, this would typically be Iwana, a type of char.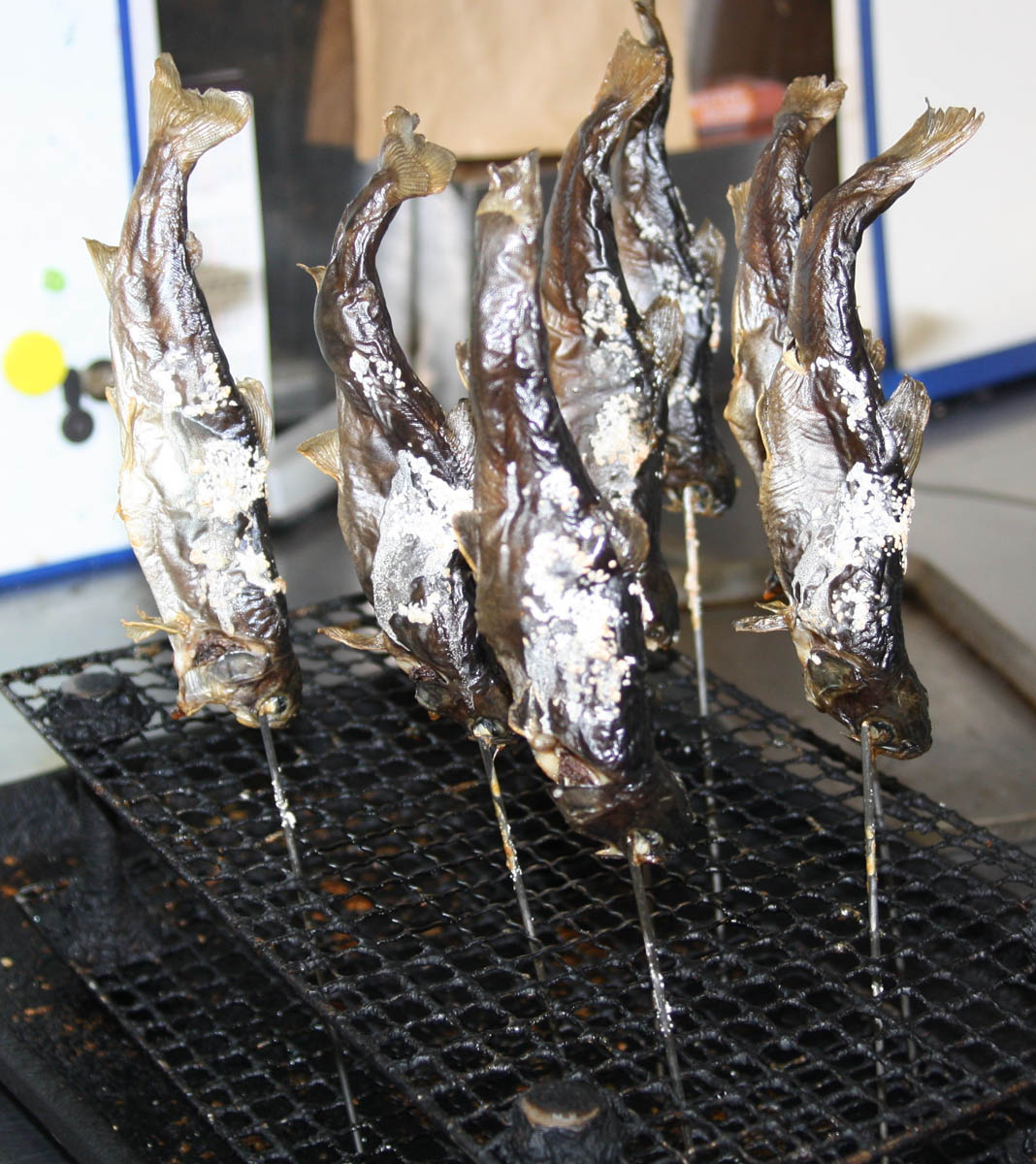 Following that is a winter variation on kamameshi, steamed rice with 7 varieties of beans, which make it sweet and savory. It uses a premium quality strain of local rice called honda yoshimitsumai, which is also available at the gift shop.
We hope you have room for desert! The last course is a chocolate tart with Gunma's special strawberries. It is served with herb tea, which has herbs freshly picked from the local mountain regions.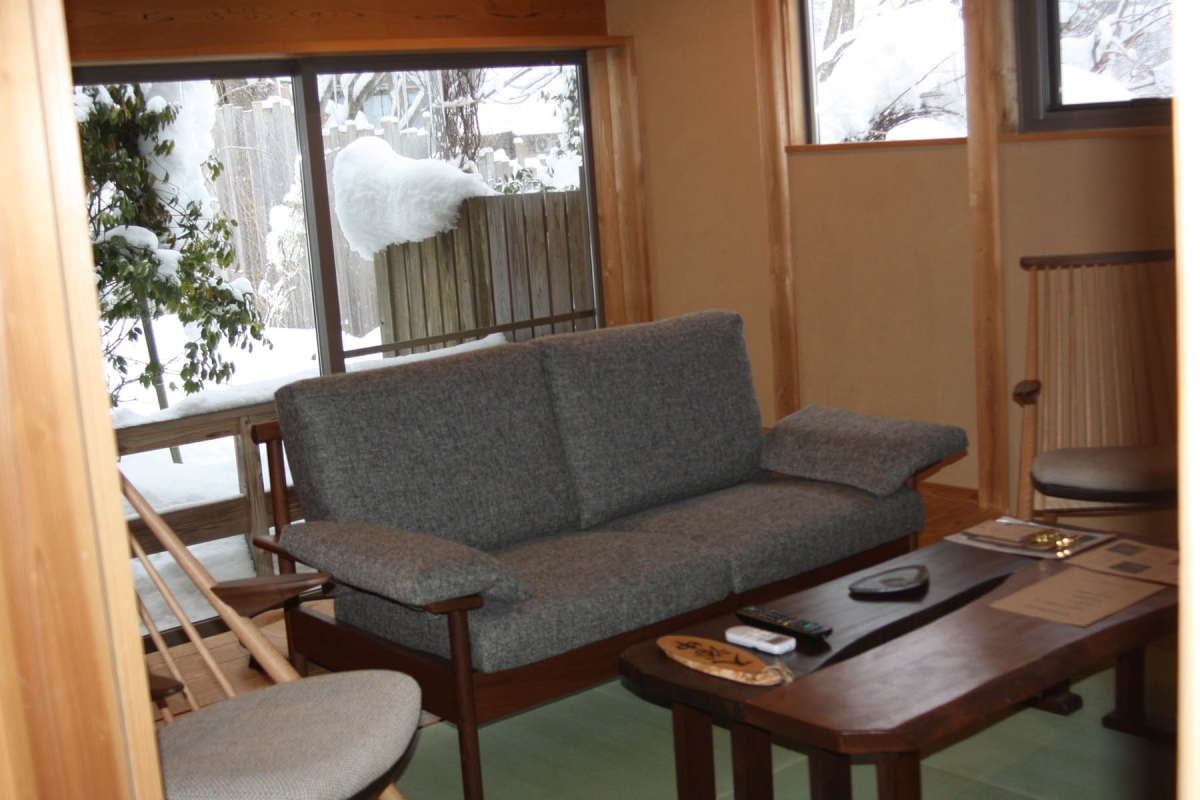 The accommodations at Syoubun
Syoubun has nine rooms, which are all well-suited to international guests. All rooms have beds, though they have additional futon to accommodate larger groups. The rooms are modern and well maintained, with fresh tatami flooring. Recommended rooms include the Inaka suite, a spacious, wide room with high ceilings, and the Odamaki room, which has a modern wood interior and a great view of the garden. All rooms also have their own private baths, and there are 3 additional onsen which you simply must try. The inn is also generous with their amenities; Syoubun features an assortment of Yukata for guests to wear.