While ryokan are typically located out in the countryside, Hatago Isen is an eco-lodge accessible to anyone. This accommodation is located directly outside of the west exit of the Echigo-Yuzawa bullet train station, and is a uniquely designed old fashioned kominka house which has been handed down for four generations of family ownership. Let Hatago Isen be your gateway to experiencing what Yuzawa and all of Snow Country have to offer.
The story of Hatago Isen's water
The story of every onsen hotel begins with its water, and the source of the water at Hatago Isen is Yuzawa Onsen, which has over 800 years of history behind it. Thanks to the amount of precipitation in the Snow Country Region, sometimes considered to be the most in Japan, the onsen water around these parts is uniquely clear, to the extent that it can be drunk straight from the taps at Hatago Isen. This warm onsen water is also used to help clear snow from the roads.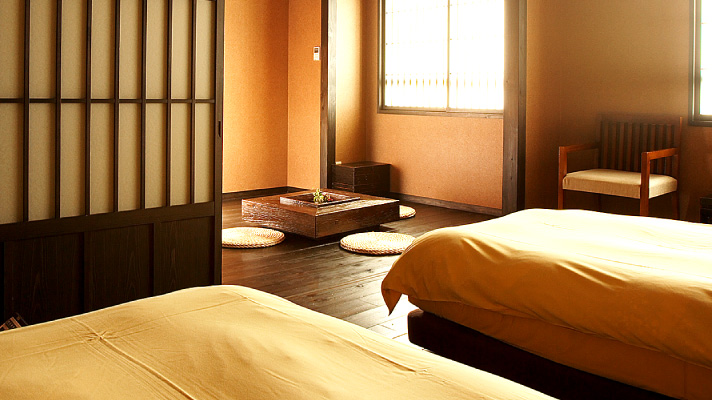 A foreigner-friendly onsen and eco-lodge
Hatago Isen is a good choice for those unused to Japanese-style accommodations in a variety of ways. There are many different kinds of rooms available, including Japanese rooms that have been given a modern facelift with the helpful addition of "bedmats," a perfect compromise between a western-style hotel bed and Japanese futon. These have the benefit of being familiar yet comfortable. In addition, five of the available rooms in the hotel also have their own private hot spring.
There are plenty of opportunities to take a dip during your stay in Yuzawa. The 5th floor of the inn has a hot spring that can be enjoyed privately with a reservation, as well as a public onsen for groups. The onsen water in Yuzawa and Isen is unique in that it doesn't have a sulfurous smell, and is also completely clear. This may be appealing to someone experiencing a Japanese hot spring for the first time. Please note, however, that guests with tattoos are not permitted at the group onsen at Isen.
About the history of "Hatago"
The "Hatago" of Hatago Isen is a name that hearkens back to ancient Japanese history and culture. In feudal Japan, many provinces were organized along a main route to various castle towns, and along the way were "post towns" where people would frequently stop and rest along the way. The inns that grew up around these post towns were known as hatago. They weren't considered luxury accommodation for imperial officials or the like, rather they were places where merchants and commoners could stay, and also became a place to exchange information. In this same way, Hatago Isen is a gateway and rest stop to a wider YUKIGUNI. Other hallmarks of a traditional-style hatago is the irori hearth in the lounge on the 1st floor lobby where people congregate. However, Hatago Isen is very much an updated hatago: this eco-lodge is modern and stylish by comparison, with comfortable and roomy accommodation for all.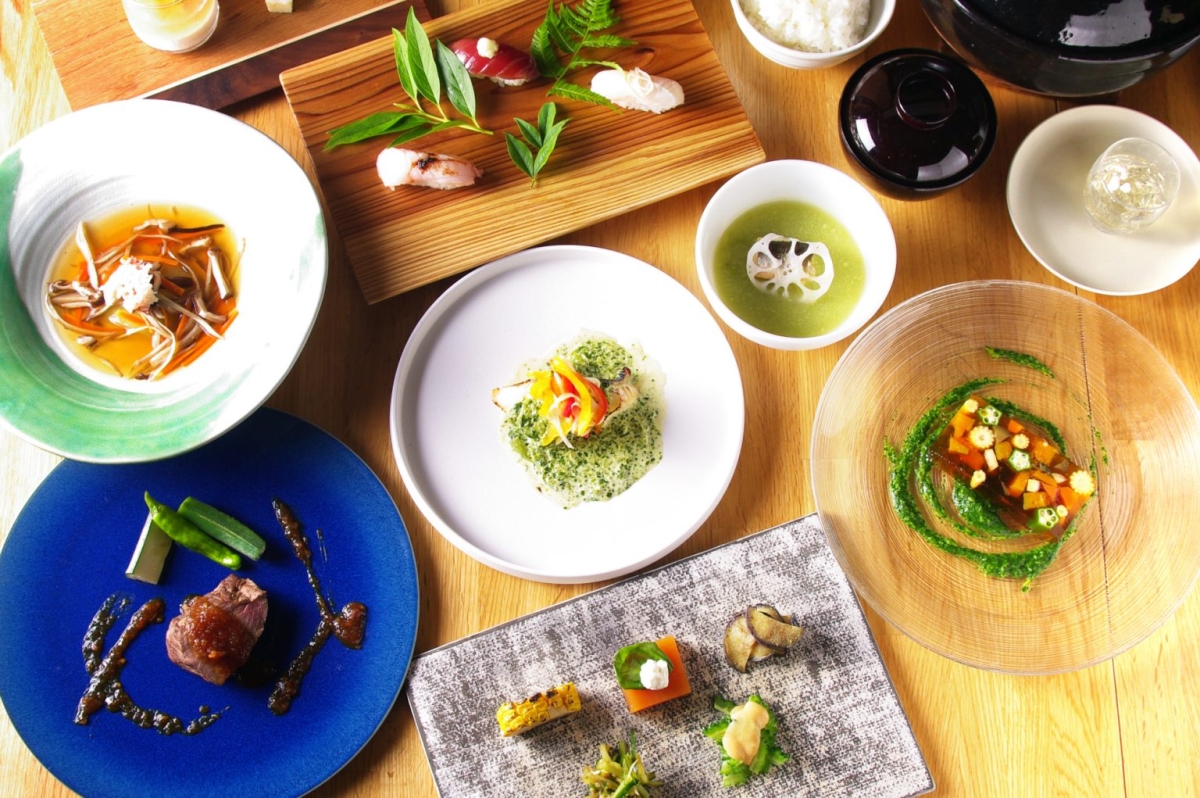 A mix of traditional and modern cuisine at Murangozzo
At Hatago Isen, you will be treated to fresh farm-to-table food at the eco-lodge's restaurant Murangozzo. The chefs at Murangozzo utilize traditional techniques and methods of preserving ingredients, more than half of which are sourced locally. If you want to learn more, you may tour the kitchen at Isen to study up on Yuzawa's culinary culture, or even go out to gather vegetables along with the kitchen staff!
The Isen eco-lodge is all-inclusive in a variety of other ways as well. In addition to Murangzzo is a café featuring freshly made sweets. The menu at Murangozzo is a modern take on traditional kaiseki course meals, featuring such dishes as Salmon with a nalta jute sauce, steamed eggplant, and their famous A5 grade Niigata beef. Isen has many other associated restaurants in the YUKIGUNI region, where you can expect the same level of service and food quality. Guests looking to work off these great meals can book a variety of activities through Isen and their sister hotel Ryugon. Everything from leisurely tours to cooking workshops are available. The staff especially recommend the hiking trips during the summer months.
Hatago Isen welcomes you!
It is no secret that Yuzawa is one of the most easily accessible parts of the Japanese countryside from Tokyo, being only about an hour away by bullet train. So, what is the most easily accessible ryokan in the most accessible part of the Japanese countryside? The answer would have to be Hatago Isen. A handsome and eclectic hotel, Isen is literally across the street from both Echigo-Yuzawa station and the Snow Country Tourist Information Center. Flexibility and convenience are the key words at Isen, as they pride themselves on being able to work with their guests on an individual level to accommodate just about any request imaginable.